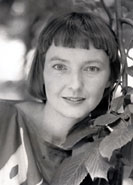 Jazz vocalist Christiana Drapkin has been performing in New York and on the East Coast for over twenty years. She now makes her home in the Washington, DC area, but keeps coming back for gigs in the Big Apple. She is noted for her lyrical and highly personal delivery of ballads and for her abandoned yet artful scat improvisations. Christiana's singing is deeply immersed in the rich traditions of Billie Holiday, Ella Fitzgerald and Carmen McRae, as well as in the vocalese fireworks of Anita O'Day, Annie Ross and Eddie Jefferson. With her focus on Jazz Standards, she highlights improvisation and harmonic development, carrying on and developing the tradition of Bebop and musicians like Charlie Parker, Lester Young, Thelonious Monk, Lennie Tristano and Dizzy Gillespie.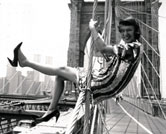 Christiana came to the US as a Fulbright exchange student from Germany, studying in New Orleans where she got her first immediate exposure to Jazz. Moving to New York provided her with her ideal artistic home, where she became part of a vibrant local jazz scene. She studied jazz with pianist Charles Sibirsky and vocal coach Barbara Feller. Christiana has drawn a lot of inspiration and support from workshops with Sheila Jordan, Mark Murphy, and, more recently, Tierney Sutton.
In the Washington, DC area she often partners with guitarist Mike Gellar. Together, they released a CD of Standards, Bossa Nova, and Bebop lines, "Got the World On a String," with Bob Shann on bass, Dominic Smith on drums, and Chris Battistone on trumpet. As they are continuing their musical journey together, Christiana is also delighted to perform with other fabulous DC musicians, Rob Redd on piano, Paul Wingo on guitar, and Dave Mosick, to name a few. She performs regularly with New York musicians, like pianists Michael Kanan and Charles Sibirsky, guitarist John Merrill and Ryan Blotnick, bassists Stephanie Greig, Pat O'Leary, and Murray Wall, drummers Michael Petrosino and Bernice Brooks, and others.
Christiana's new project, "Shakespeare and all that Jazz," celebrates the power and beauty of Shakespeare's poetry, set to music in jazz arrangements. This highly unique and barely known material proves to be a treasure trove of discovery, and has struck a responsive chord with their audiences. The compositions are by Duke Ellington, Billy Strayhorn, John Dankworth, Arthur Young, Kenneth Greig and others, ranging from haunting ballads to up-tempo numbers, celebrating love, life and death with delightful immediacy.
For the past couple of years, Christiana has continued the development of her intriguing duo-collaboration with the Brooklyn bassist Stephanie Greig. Together, they recorded a mini-CD, "Au Pair", which features their explorations of jazz tunes at both ends of the pitch spectrum. Stripped down to the bare essentials, without a chordal instrument to provide comfort and support, they are discovering the power of their two voices intertwining in harmonic counterpoint. They are pushing the boundaries of the genre, extending their repertoire from Monk, Miles, Bird, through the great American standards of Hoagy Carmichael and Ellington, to such surprising choices as Erik Satie, Kurt Weill, and contemporary composers.
Her new CD "Songs About You" was released on Iana Records in 2004 (see reviews under the "Press" tab). It features several original compositions by pianist Charles Sibirsky, guitarist Andy Fite, and saxophonist Charley Krachy, rounded out by her fresh interpretations of Standards from the American Songbook. Charles Sibirsky is on piano, Murray Wall on bass, John Merrill on guitar, and Charley Krachy on saxophone.
Five years earlier, Christiana recorded her debut CD "The Man I Love" on Iana Records. The recording includes Stephen Lembo on piano, Steve Doyle on bass, and Bernice Brooks on percussion. The quartet as a whole conveys a chemistry and freshness which results from a group of musicians listening to each other and enjoying each other's company as they create their joyful musical dialog.
"Keep Singing!" – Sheila Jordan